Defibrillator for AGEnda - Please Donate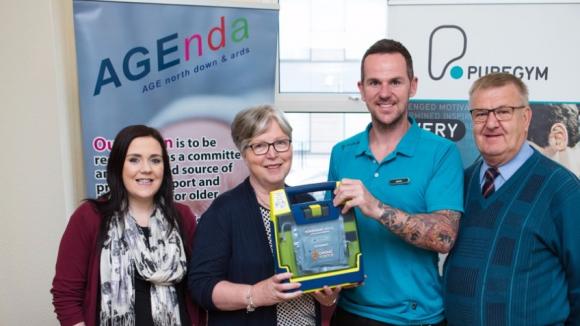 PureGym Bangor have donated a G3 life saving Defibrillator to AGEnda 24 Hamilton Road, Bangor, N.Ireland. 
We now seek the help of the Bangor public to raise £500 so that we can purchase a specialist cabinet for the safe housing of the unit outside of their premises on 24 Hamilton Road, Bangor. In doing so it means we can make this vital piece of equipment available to the general public. With Ward Park and Bangor Town Centre in close proximity we feel this would be great for the local community. 
Please help us acheive this target of £500 so that we can get the Defibrillator installed and help us potentially saves lives in the local area. PureGym have donated this completely free of charge and the company who make the cabinets are providing it at cost price to us. The reason it is a specialist cabinet is because the pads attached to the Defibrillator need to be kept from exposure to the cold weather. 
Donations can also be made in AGEnda 24 Hamilton Road, PureGym Bangor, Toscana Retail Park and the Spectator Newspaper Office at Balloo Industrial Park. 
Many thanks for your support ! 
http://www.crowdfunder.co.uk/defibrillator-for-bangor/